Covid-19 waste: the company&#8217s solution Eco.System
The coronavirus tunnel has become progressively darker and darker, we must not give up. But maybe there is a glimmer, and then we also need to start planning for the future, to make it better. Starting with what is useful to ensure everyone's health.
How the collection of Covid-19 infectious risk waste. Made by companies such as Eco.System.
In short, we continue our investigation of the topic. After the articles involving manager Paolo Tuccitto and the Newster company in the province of Rimini, we tell you about another Italian company operating in the sector. Opera in Modugno (Bari, Italy).
And its CEO Mario Damiani tells us what it can offer for a more environmentally conscious Italy.
By uploading the video, the user accepts YouTube's privacy policy.
Read more
It always unblocks YouTube
Eco.System and Covid-19 waste
Interview with Mario Damiani
Dr. Damiani, tells us about your company's?
"We have two industrial addresses. First build facilities through Ecosyst, all certified, for the sterilization of hospital waste. With maintenance, spare parts, staff training. We work with public and private sectors and with those who need industrial waste treatment.
And that they want to do it on site.".
And the other address?
"It's called Ecos Service, and in that case we do the disposal of Covid-19 waste after it has been shredded and processed. We got permission from the authorities here in Bari to process 3,000 tons. And, emergency permitting, we should be rolling out in September.
Anyone can drop off scraps from the region as well as from outside the region and other countries around the world. What remains becomes secondary solid materials for waste-to-energy plants".
What do your machines consist of?
"The system was created by me: it&#8217s a custom autoclave that works with saturated steam. We have three lines for predetermined beds: the 150-pound for small hospitals, the 250-pound for medium hospitals, and the 500-pound for large hospitals.".
And how they work?
"As mentioned we sterilize with saturated steam. The advantage is that, unlike the traditional disposal system, the waste is processed on-site and there is no concern about infected material passing through. Plus the plant has no emissions into the atmosphere.
Also, it doesn't have sewer drains.".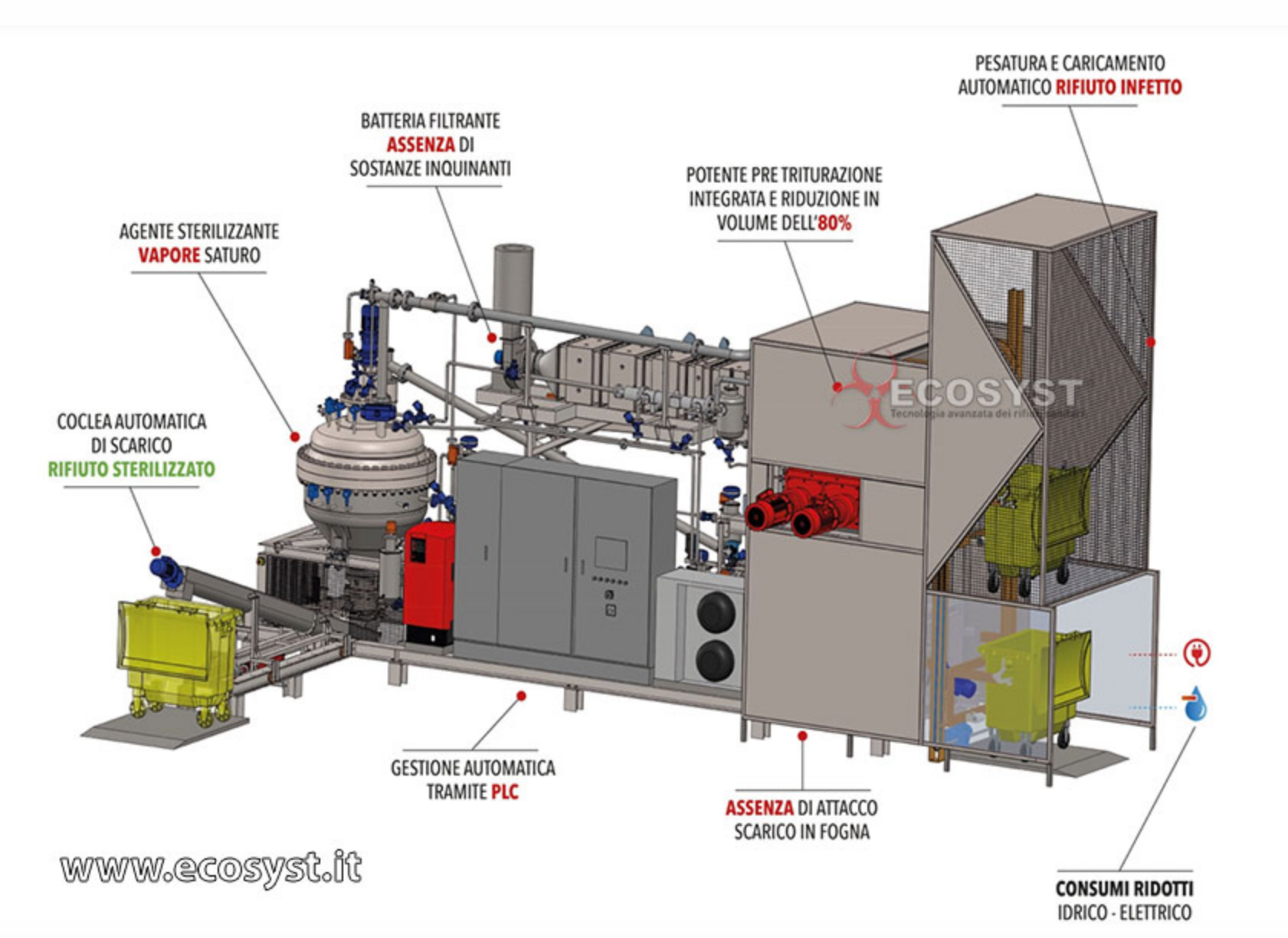 It makes all the steam, in short.
"That is recovered by the machine. The volume of waste is reduced to 80 percent, so storage lasts a long time. We load an incoming mix: for every 10 cartons of waste, there is one of liquid.
The system is automated, just one person pushing the button".
Benefits?
"The waste is sterilized and clean. The hospital can keep it up to two weeks instead of having the problem of having it picked up every few days. Not sure if the virus in the container stays sealed there.
And then there is the issue of transportation, which can be dangerous for people and the people doing the transportation. Finally: the disposal cycle is much cheaper.".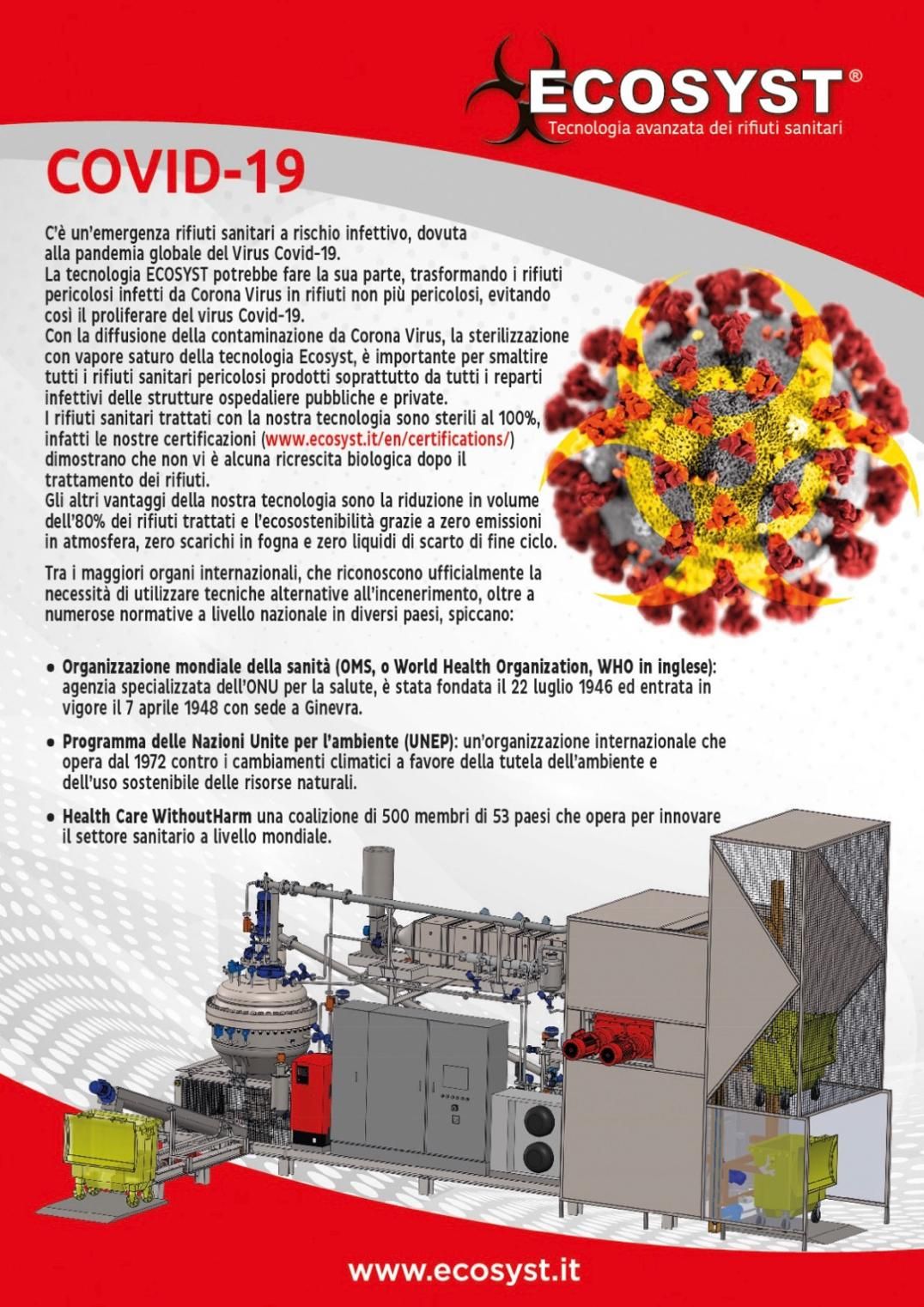 Your advice at this time?
"Look, if I were in the Civil Defense I would worry about doing collection centers everywhere. For example at the Milan Fairgrounds where they are building the hospital for Covid-19 patients. And in other areas where positive people's waste puts everyone's health at risk".
If someone were to call you now?
"We are ready and willing. And in case of new orders, in three to four months the machine is ready. The emergency will end, but the future must provide better answers so that this serious crisis will not be repeated.".